Automatic Doors In London
Automatic door Shopfronts provide you different benefits like; Easy to access Improve your shop security level. Automatic gates save space and energy. These doors are easy to use.
Signature Shopfitters provide their clients with fully Automatic Door Shopfronts to satisfy their customers without worrying the security issues. We offer numerous designs of automatic doors you do not need to worry about design and security while having Signature Shopfitters automatic doors. You can also embed your shop name logo on the doors.
Signature Shopfitters offers their customers different Automatic Door Shopfronts which are made of Aluminium and steel and are fire retardant.  Experts of Signature Shopfitters develop new designs to their customers' requirements by studying the trends regularly.
We consider the security methods in the automatic door Shopfronts to protect your place from robbers or other accidents. In this fast moving technological era Automatic Doors make your life quite easier and saves your precious time as well.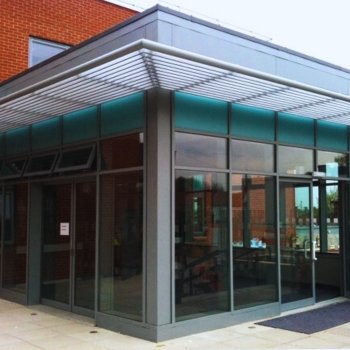 Types of Automatic Door Shop Fronts
Whether you are looking for automatic door shopfronts we provide  you outclass Automatic doors here. Signature Shopfitters provide two types of automatic doors as follows:
Sliding Doors: Sliding doors keep the standard of your shop and change the appearance of your shop which attracts your customers. We provide modified sliding doors to our clients to enhance customer satisfaction.
Swing Doors: Swing doors of Signature Shopfitters make your work place more attractive. By using these doors to your workplace and shop your customers move in and out easily. Swing doors are also designed according to customers' requirements. You can embed your shop's logo on the swing door easily. These doors have a security system in build in them consequently provide security to your work place
Why choose Signature Shopfitters for Automatic Doors
Signature Shopfitters provide Automatic door shopfront that has different services. Our experts made different automatic doors using:
Cameras in automatic door fronts, with the help of these cameras you can see your customers and keep an eye on them.
Signature Shopfitterss integrated sensors and alarms in Automatic door Shopfronts to increase the safety level to secure your shop.
Providing you with the whole configuration of automatic door shopfronts with your system.